Wealth intelligence firm, New World Wealth has recently revealed the top wildlife estates in South Africa for 2023. We find out more.
For the purposes of the report, wildlife estates refer to estates or reserves with abundant wildlife where people are allowed to buy a private home in the wild bush.
As wild spaces continue to diminish, wildlife estates could play an increasingly big role in conservation. These types of estates are mainly a South African phenomenon but it is expected to grow in popularity over the coming decade, particularly in Namibia, Kenya, USA, Australia, Canada, and Brazil.
Ratings criteria include:
• Location, views and scenery.
• Wildlife & birdlife experience.
• Design and space.
• Maintenance.
New World Wealth's top 10 wildlife estate picks for 2023 are listed below (in no particular order).
Elephant Point
Elephant Point, bordering the Kruger National Park, is only 6km from the Paul Kruger Gate and 26km from Skukuza Airport.
The lodges are alongside the banks of the Sabie River, where elephants often graze and drink. Within close proximity to other comparable exclusive world-famous game reserves, Elephant Point is in a league of its own. With every comfort possible, game viewing from your lodge, nature walks within the estate, various dining options available, a mobile spa on call, and intuitive service – you'll never need to leave your luxurious private lodge.
Royalston Coastal Wildlife Estate
Spread out over 1000 hectares the Royalston Coastal Wildlife Estate, located just outside of Gqeberha (Port Elizabeth) is the tranquil escape you have been looking for. Depending on seasonal conditions Royalston carries between 800-1000 head of game including Sable, Gemsbok, Giraffe, Zebra, Blue Wildebeest, Golden Wildebeest, Impala, Blesbok, Springbok, Bushbuck, Nyala, Red Hartebeest, Duiker, Blue Duiker, and Warthog. The birdlife is expansive with over 200 different types of species the black-headed heron, long-crested eagle, owls, swallows and francolins.
Amenities include flood lit tennis courts, golf driving range, open sports field for soccer or rugby, hiking trails through the forest, fishing, fully equipped gym, indoor and outdoor swimming pools, a dog park, Javali Café at the clubhouse and more!
Leopard Creek
Located near Malelane, Leopard Creek is a golf and wildlife estate that boasts incredible surroundings and world-renowned golfing facilities.
As a hotspot for the wealthy, this exclusive estate's golf course is often rated among the world's best. Since 2000 the prestigious Alfred Dunhiil Championship has been played here. The tournament has occupied a unique place in world golf with champions which have included Major winners and former World No.1 golfers such as Justin Rose, Adam Scott, Charl Schwartzel and Ernie Els.
Most of its stands are located next to the game fence that overlooks the Crocodile River in Kruger National Park.
Gondwana Private Residences
The award winning Gondwana Game Reserve is ideally and accessibly located on South Africa's popular Garden Route, less than four hour's drive from Cape Town and 45 minutes from George Domestic Airport. The 11,000-hectare (26,000 acre) private game reserve offers an exclusive Big Five, malaria-free safari living experience. The Reserve is situated in a spectacular landscape with herds of antelope and awe inspiring views of the Langeberg and Outeniqua Mountains.
The first of its kind in the Western Cape, Gondwana offers the chance to own a safari home in a Big Five game reserve with 5-star amenities. The residences are surrounded by ample undeveloped land allowing for spectacular views of wildlife, nature and the Outeniqua Mountains.
Mjejane
Mjejane is a 4,000 hectare game reserve located on the banks of the Crocodile River (near Leopard Creek) and it is open to the Kruger National Park, with no fences between it and South Africa's main national park. Along with the private homes, there are also several top-end lodges there, including the popular Mjejane River Lodge.
Leadwood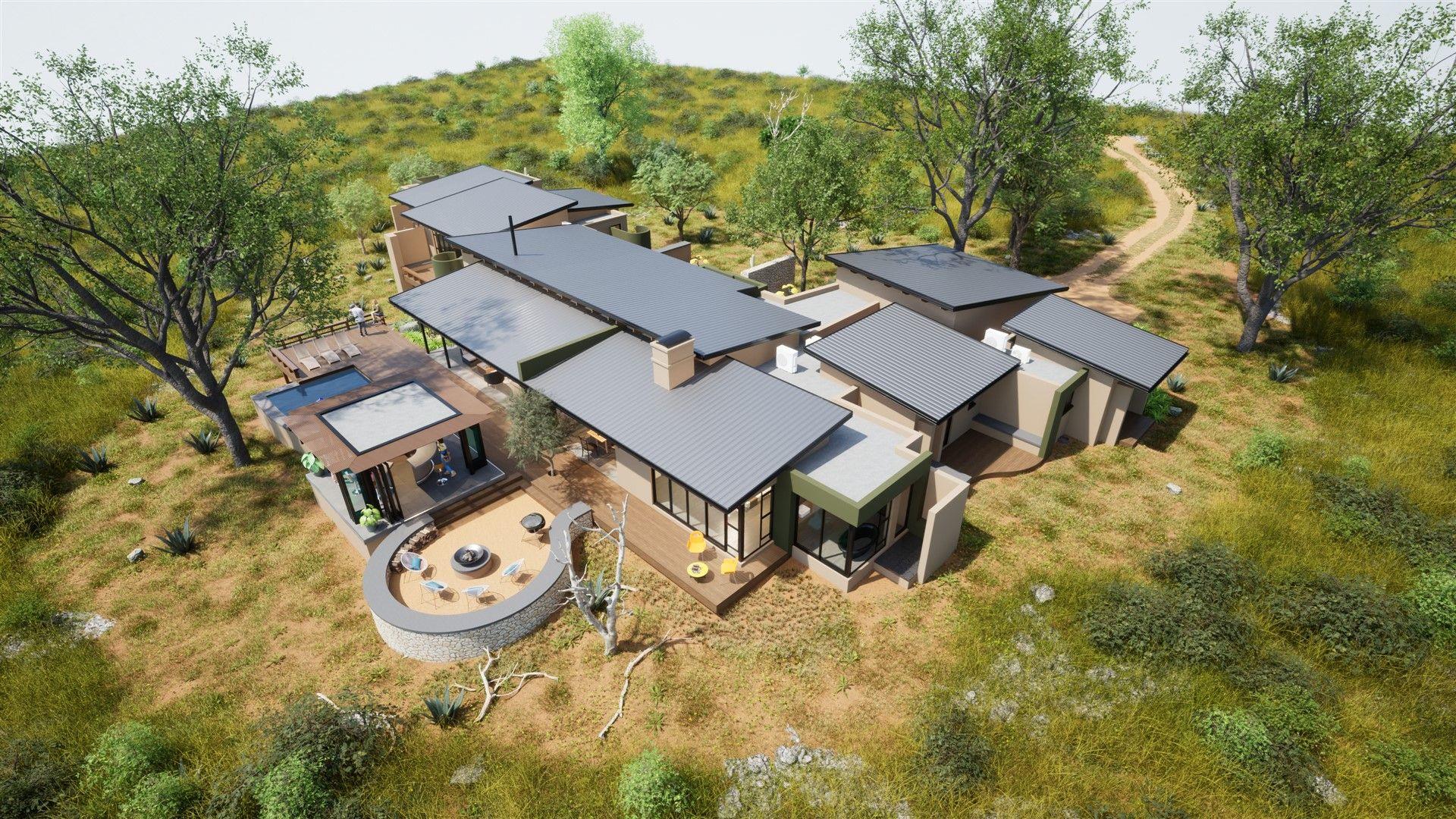 5 bedroom house for sale in Leadwood Wildlife Estate
Spread out over 5500 hectares and only a 20 minute drive from Hoedspruit, Leadwood Big Game Estate is located within a big game conservancy where large animals such as lion, elephant, leopard and rhino roam freely.
Enjoy the freedom of building or buying your dream bush home, coupled with value for money monthly levies, access control, electrified fence, wildlife management, and waste removal.
Hoedspruit Wildlife Estate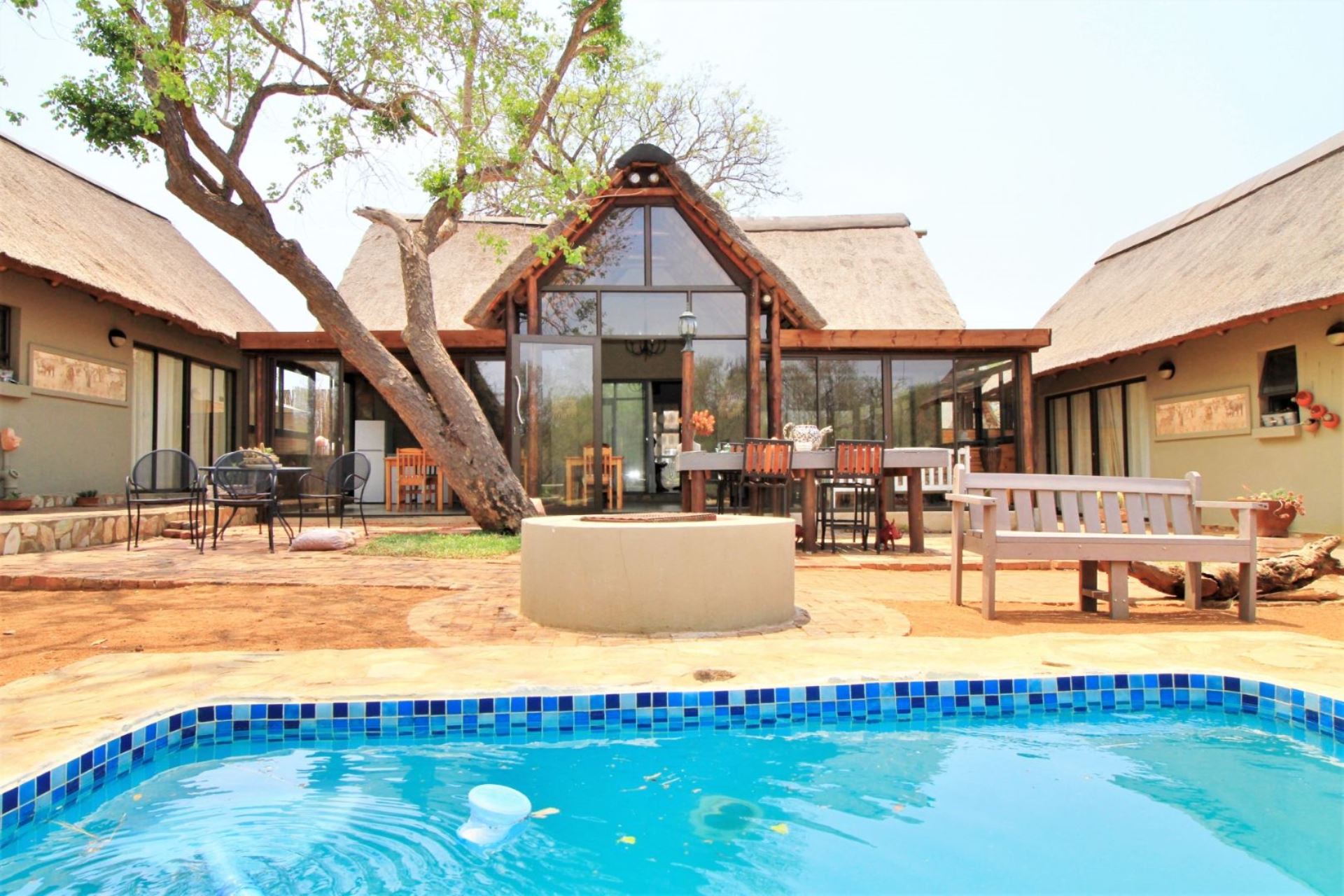 4 bedroom house for sale in Hoedspruit Wildlife Estate
Hoedspruit Wildlife Estate recently made headlines when it played host to Tom Cruise while he was filming a new movie in South Africa, and considering the breathtaking beauty and amenities on offer here it is easy to see why.
The estate has 450 half hectare, full title stands. About half of these stands have been developed into residential homes or bush lodges. Homes and lodges are set amongst large bushveld trees with views of the bush, Drakensberg Mountains or one of the dams on the estate.
The green belts there seem to go on forever and the estate features some lovely bird hides and walking trails.
Likweti
Likweti Bushveld Farm Estate is a relatively new estate located near White River. The birdlife on the estate is particularly impressive and international bird guide Marc Cronje leads a regular bird walk there, which is highly recommended. There are also two top-end lodges located on the estate, Muluwa Lodge and Ndhula Tented Camp, which both provide great dining and accommodation options.
Raptor's View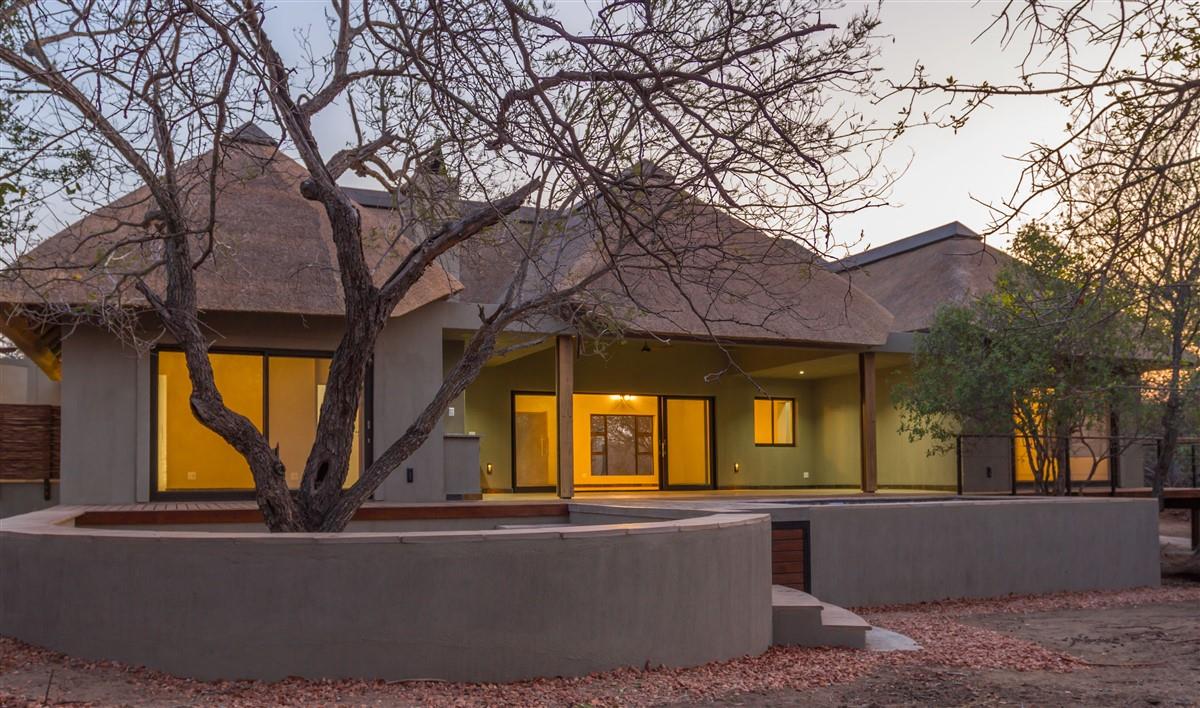 3 bedroom house for sale in Raptors View
Located on the edge of Hoedspruit, Raptor's View was one of the first wildlife estates in South Africa and has been going for over 20 years.
The estate has 305 one hectare stands and is a low impact estate, affording privacy from neighbours and has undeveloped wilderness areas for the game and walking. The estate is secure with both electric fencing and security guards controlling access.
The estate is well stocked with plains game such as Giraffe, Zebra, Wildebeest, Kudu, Nyala, Impala, Duiker, Waterbuck and Warthog. Smaller animals like duiker, jackal and a variety of birds are also abundant. Frequent visits from nocturnal creatures like porcupine, civet, badger, aardvark and genet, also occur. The Estate has three dams and the perennial Sandspruit River runs through it.
Zandspruit Bush & Aero Estate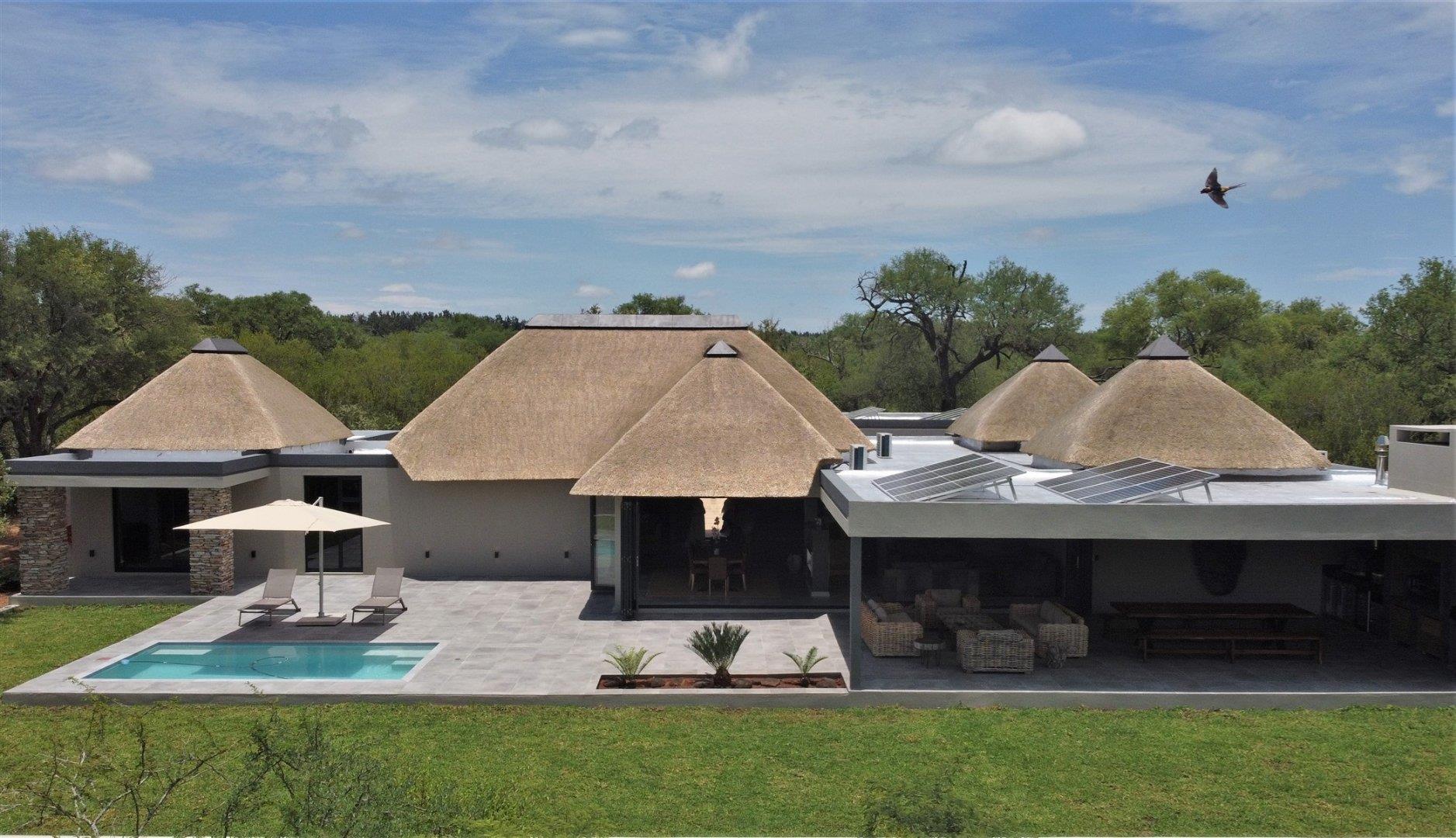 3 bedroom house for sale in Zandspruit Bush & Aero Estate
Zandspruit Bush & Aero Estate is located near Hoedspruit. Highlights of the estate include a private airstrip and a beautiful seasonal riverbed that flows through the middle of the estate. The Klein Drakensberg Mountains also provide an inspiring backdrop.
Zandspruit is 1000 hectare, of which 650 hectare will stay unspoilt bushveld, meant for you to enjoy the African nature at his best.
This wilderness area will provide a natural and untouched environment for all the free roaming plains game, such as giraffe, zebra, wildebeest, kudu, waterbuck, warthog, impala, duiker, bush buck and various other small animals.
Zandspruit Bush & Aero Estate provides 161 bush stands, as well as 38 aero stands, along the 1000 meters hard surfaced private runway. Architectural guidelines will apply to all houses, guaranteeing a home to suit every need and taste, whilst ensuring continuity and coherence . The allowed styles are thatch, farmhouse and modern pavilion, which caters for individual preferences, as well as optimizing each stand's unique qualities and features.