The residential property market in Cape Town's world-renowned V&A Waterfront is increasingly buoyant, with sales registered for the first nine months of 2022 exceeding the total number sold for the whole of last year (2021).
Says Basil Moraitis, regional manager for Pam Golding Properties in the Western Cape: "Rather than being negatively impacted by Covid, the V&A Waterfront actually experienced an increase in residential property sales in 2020, with continued strengthening in sales in 2021. Sales registered for the year to date have already exceeded total sales for 2021 before the busier summer sales season has begun, so it looks set to be another solid year of residential sales activity."
In 2021, for the entire year, there were 30 sales across the Waterfront at a median price of R10 million, while this year to September, (Jan-Sep 2022), there have been 32 sales at a median selling price of R11.6 million, which represents an increase in median prices of 16%. At R11.6 million, the median sales price for the year to date is the highest recorded since 2018, when a median selling price of R13.8 million was recorded.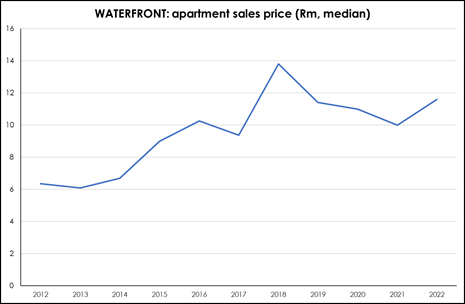 Source: Lightstone
Says Moraitis: "These sales are notable given that the V&A Waterfront is a highly seasonal market, with the winter months are usually quieter but with sales activity picking up considerably over the summer months, so we are anticipating increased activity for the remainder of the year, and during the warm summer months in early 2023. We anticipate that continued semigration to the Cape and a desire for secure accommodation will continue to support this market for both local and international buyers."
A recent high-end sale by Pam Golding Properties was a 252sqm penthouse with exceptional views, situated in the Waterclub in Granger Bay, which was purchased for R39 million. This penthouse is certainly one of the best apartments at the Waterclub, with patios on three sides offering the finest of marina and Table Mountain views possible.
Says Moraitis: "Of interest is that over the past 12 months (Oct 2021-Sep 2022), there have been a total of 38 sales in the Waterfront, with those located within security estates (31 apartments) sold for a median price of R15.36 million, while the seven apartments outside security estates have registered a median price of R7.68 million."
Over the past five years (2017 to 2022), the median selling price (achieved) of sectional title apartments in the Waterfront appreciated in price by 23.7%, and 82.7% over the past 10 years. (Lightstone statistics)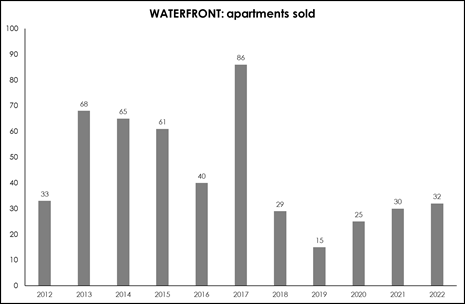 Source: Lightstone
Moraitis says the V&A residential marina remains a highly sought-after, secure precinct, with the unique lifestyle offering constantly in demand locally, nationally, and internationally. Correct pricing, however, remains critical in this market as both South African and global buyers research the market thoroughly, ensuring they are well-informed. The majority of the buyers are local Capetonians followed by buyers from Johannesburg or Durban. Buyers from Europe continue to prefer the Waterfront and adjacent Waterclub.
"Purchasers are a mix of owner-occupiers and investors – leaning towards the latter, who are buying to rent out their units on short-term lets and counting on strong capital appreciation.
"Nationally, coastal (within 5km of coastline) prices continue to accelerate, rising by +8.7% in May 2022 (latest available data from Lightstone), with the coastal price premium versus non-coastal widening to +4.2% in May (the price premium has averaged 3.5% during that period) – the highest since mid-2005.
"Providing tranquillity with great views, the Canal area of the Waterfront remains the No 1 choice as it provides a multitude of options for buyers, while prices are more affordable."
According to Lightstone, there are a total of 607 residential units in the Waterfront precinct, with 85% located within security estates, and 99% of all units being apartments. Says Moraitis: "Given the price point, it's not surprising that the age profile of both stable owners – who have owned their properties for at least 12 months – and recent purchasers are skewed towards mature buyers and retirees."
Cape Town retains its beauty, strong infrastructure, appealing climate, beaches, wine farms, fine restaurants, majestic mountains, and wide range of shopping amenities. It is currently ranked 12 globally on the 2022 Sustainable Cities Index, with the best air quality in the 2022 Index universe in Africa, most open public space in Africa and most sustainable policies in Africa. Last year Table Mountain was voted Africa's leading tourist attraction by the 2021 World Travel Awards, holding top spot since 2019. Meanwhile Cape Town has been named Africa's leading city destination and Cape Town International Airport acclaimed as Africa's best.
Adds Moraitis: "Tourists are back in full force. We have heard that the Waterfront is expecting a bumper season and bookings for the hotels here have exceeded pre-pandemic levels. Further positive news is that British Airways is adding more flights between London and Cape Town, while from November/December, United Airlines and Delta Airlines will be flying direct between the US and Cape Town, and in February 2023 Emirates Airlines will be increasing its frequency - flying twice daily to Cape Town.
"Renovation of the Ocean Terminal now provides an appealing food hall for tourists as well as new offices and parking, while Battery Park is a new section built inside the Waterfront precinct, providing outdoor activities for all ages, with free WiFi, more food stores, parking and good security."