If you are thinking of investing in property, you can't go wrong with a home on the coast. Not only are the prices of properties located within 5km of the ocean experiencing faster growth, but the margin by which this exceeds non-coastal house price inflation has risen to an average of 3.1% for January to April 2022 - the highest coastal price premium since mid-2005, according to Lightstone property data. Also, you are assured of a good yield on your investment as properties in these areas are always sought after.
"As the pandemic made it more common for people to work remotely, we have seen a surge in semigration to areas traditionally considered holiday destinations. Coastal towns such as Hermanus in the Western Cape, St Francis Bay in the Eastern Cape, and Ballito in KwaZulu-Natal have seen big interest from buyers wanting a better quality of life for their family," says Carl Coetzee, CEO of BetterBond.
While house price growth in non-coastal areas continues to slow, the demand for coastal homes is reflected in this property category's annual house price inflation of 8.0%, according to the Lightstone Residential Property Index for March. In comparison, inland properties saw a house price inflation of only 4.9%. "House price growth along the coast has been steadily increasing since August 2020. We see the impact of this demand in Nelson Mandela Bay, which has toppled the City of Cape Town as the top performing metro when it comes to annual house price growth." At 8.9%, according to March data, this metro is well ahead of the City of Cape Town, home to the Atlantic Seaboard and a number of blue flag beaches, which reported a house price growth of 4.0% over the same period.
In Ballito, TPN data shows that the average house price has increased from R3.8 million at the end of 2021 to R4.1 million currently, says Coetzee. In Hermanus, where the proliferation of new developments has seen sectional title property prices surge from R1.2 million in 2019 to the current R3.6 million – well above the R2.3 million average for a freehold property in the town. "Hermanus has long been a well-loved holiday spot, and has plenty to offer professionals and families. There are excellent schools, a range of property types including new developments and homes within estates, a wide array of leisure options, and world-class wine farms in the scenic Hemel and Aarde Valley. Also, it is just a short drive from Cape Town, which makes it easy to commute to the office when needed," says Coetzee.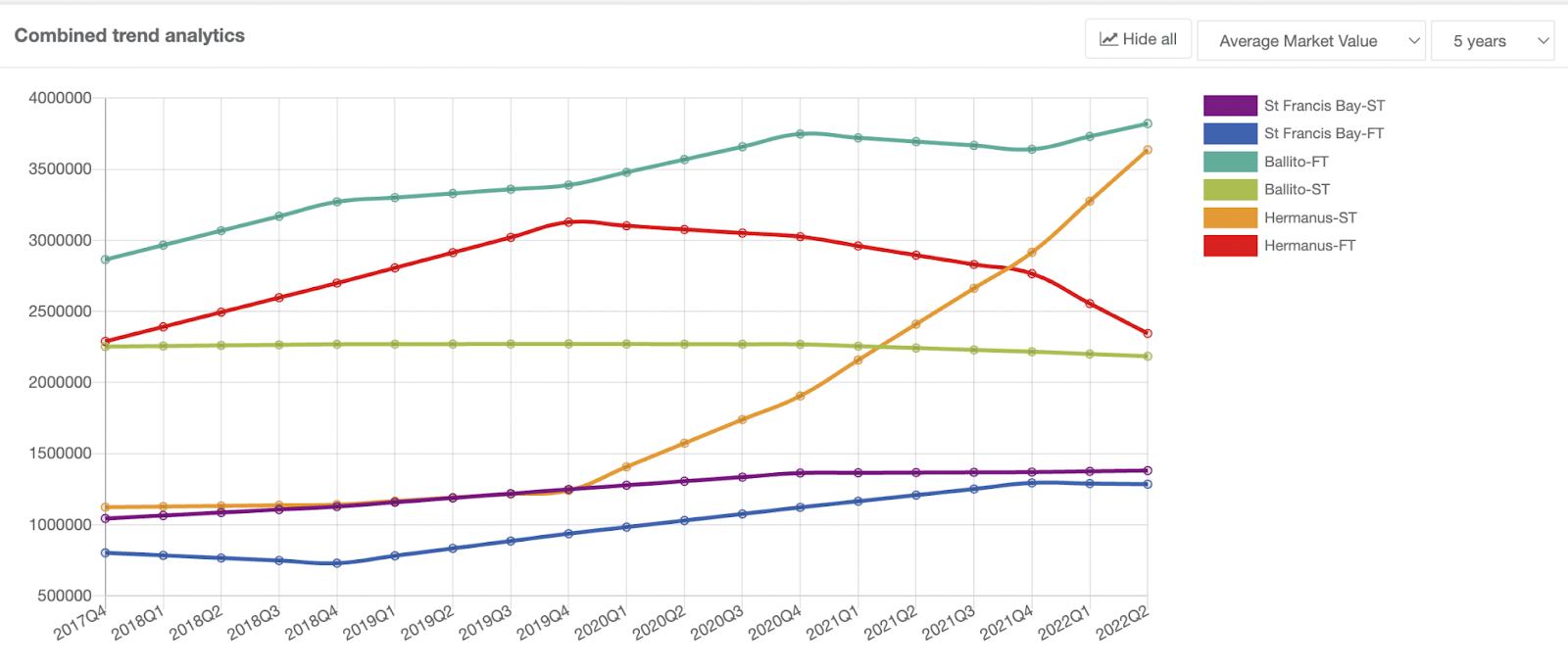 Source: TPN - Q2, 2022
St Francis Bay, less than a two-hour drive from Gqeberha, is known for its pristine beaches, nature reserves, and serene lifestyle. It also offers a range of property options, from high-end homes on the waterways to luxurious holiday cottages, says Megan Holden, from Just Property Lifestyle (St Francis Bay). Property price growth has been steady over the past five years, with the average market value of a freestanding home currently at R2.075 million, according to Lightstone property data. "Offering exceptional value for money and an enviable lifestyle, St Francis Bay is becoming increasingly popular with buyers relocating from Gauteng and other parts of the country," says Holden.
"The increased demand for sectional title properties in this sought-after area has also seen average property prices increase steadily to just over R2 million, according to current Lightstone data - slightly higher than full-title properties which average R2.07 million," says Coetzee. Holden adds that more than a third of buyers are between the ages of 36 and 49, indicating that more families are moving into the area. The largest cohort of buyers, accounting for 42%, are in their fifties or older, as their lifestyle wants and affordability are most aligned.
Not only are these coastal towns appealing because of the desirable lifestyles they offer, they also provide exceptional rental yields. In St Francis Bay, where there is a strong demand for accessible rental properties, the average rental yield on freehold properties is above 8%, according to TPN data. Sectional title properties also have good yields of 8.5%. Ballito offers yields of above 7% for both sectional title and freehold properties.
"With changes in the way we live and work, popular holiday destinations are becoming sought-after locations for families and buyers looking for a better quality of life," concludes Coetzee. "And, they make for sound investments as well."