Located adjacent to the Crocodile River on the southern boundary of Kruger National Park in Mpumalanga, the popular holiday town and nature conservancy of Marloth Park is seeing savvy investors snapping up vacant stands in order to build homes for leisure rental income. Coupled with this, we are also experiencing an influx of home buyers from all regions around South Africa, says Pam Golding Properties area principal, Gerhard van Niekerk, who is based in Nkomazi.
Says van Niekerk: "Since Covid, the Nkomazi Municipality has approved more new home plans in Marloth Park than the rest of Mpumalanga combined, with sales of stands and houses booming. Vacant plot sales soared to a decade high in 2021 while the median price of stands has accelerated since 2020 and notably, in 2022. The lifestyle here is a major attraction, coupled with the wildlife appeal, while residential property prices, rates and taxes are relatively low, making this area very affordable. For nature enthusiasts, there are numerous organisations, such as Honorary Game Rangers, where you can become active in nature conservation."
Van Niekerk says currently, vacant stands are becoming increasingly in short supply to meet the demand, with stock levels low due to over-optimistic sellers. Marloth Park is home to approximately 4 500 stands, which is more than the combined number of residential properties from Komatipoort, Malelane and Hectorspruit.
"At present, the average price for a vacant stand is around R320 000 for plots mainly between 1 900 and 2 200sqm, providing sound opportunities for speculative building.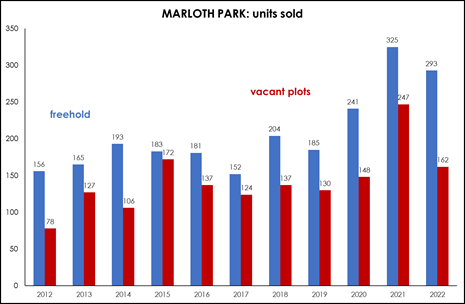 "Marloth Park has huge appeal for those wanting to enjoy nature close-up in this lowveld area, which includes prolific birdlife and free-roaming wild animals such as impala, zebra, giraffe, waterbuck, wildebeest, kudu, nyala, warthog, duiker, reed buck, buffalo, baboons, monkeys and mongooses.
"Furthermore, Kruger National Park is only a 20-minute drive, making day trips through the park easily accessible, while Mozambique's sub-tropical coastal resorts are about an hour away. In fact, many Mozambiquans own properties in Marloth Park, mainly to enjoy the wildlife and Kruger National Park. Nearby Komatipoort offers great opportunities for tiger fishing, golfing and game viewing, while other activities include mountain biking or 4x4 trails, river game drives and safaris."
Adds van Niekerk: "With a community shopping centre, filling station, restaurants, other small retail outlets and two business centres, the most sought-after price band for houses is up to R1.7 million, which would acquire an old-style Marloth Park home which can be renovated. Most permanent home buyers are seeking three-bedroom homes which range from R1.5 million, while spacious five and six-bedroom homes, ideal for leisure use or rental income, are still affordably priced at around R2.5 million to R3.75 million. An average four-bedroom home would cost in the region of R1.85 million."
According to Lightstone statistics, nearly a third of stable owners – who have owned their homes for the past 12 months - are retirees, while the largest age cohort of owners (44%) are 50-54 years of age, and nearly a third of recent buyers are middle aged, with a further 12% young adults, most of whom are drawn by affordable prices in order to build and then let as holiday rentals. Van Niekerk says the town also remains popular among overseas buyers, many of whom stay in Marloth Park before or after a visit to Kruger National Park, while others stay in Marloth to enjoy day visits to Kruger."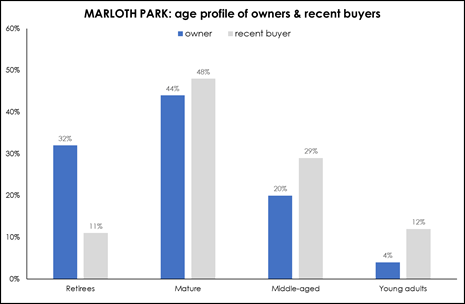 Source: Lightstone
Since Covid, prices have accelerated with robust growth in prices for both freehold and vacant plot sales over both a five and 10-year period (see below). Prices have doubled, says van Niekerk. "Freehold home sales surged as buyers moved out of cities and busy centres to acquire more spacious homes in a healthy, tranquil and natural environment."
2022
Five years %

2017-22

Ten years %

2012-22

Freehold
900 000
+69.2
+110.3
Vacant plot
250 000
+150.0
+201.2
Source: Lightstone
Concludes van Niekerk: "Adding appeal is that the stands are large and there are green belt areas where homes are spaced well apart. Residents are able to work remotely as there is very good WiFi and cell phone towers, plus there are all the amenities one needs, with additional facilities in nearby towns."