The fourth quarter of 2021 revealed a change in tide for the property market, either owing to seasonality or to the start of equilibrium following the first interest rate hike since the pandemic hit in 2020.
According to Lightstone Property data, a total of 41,085 bond registrations were recorded at the Deeds Office over the period October to December 2021. The RE/MAX National Housing Reports reveal that this figure is down 7% from last quarter and down by 8% on Q4 2020's figures. The number of transfers (both bonded and unbonded) recorded at the Deeds Office for the fourth quarter amounted to 57,301*. This amount is down by 5% on last quarter and down by 7% YoY.
Of the 57,301 transfers, a total of 27,998* freehold properties and 15,141* sectional title units were sold countrywide (these figures exclude estates, farms, and land only transfers) in Q4 2021. The number of freehold properties registered decreased by 7% YoY and by 5% QoQ. Sectional titles increased by 1% QoQ but decreased by 7% YoY.
Regional Director and CEO of RE/MAX of Southern Africa, Adrian Goslett, explains that it is typical for activity within the property market to slow toward the end of the year. "Many buyers and sellers put their plans on hold over the festive season as they gear up for their annual leave and plan their vacations. Similarly, many real estate professionals take leave during December and the Deeds Office also closes over the holidays. While this ought to be kept in mind when reviewing overall housing market performance over the fourth quarter, I do also believe that the November interest rate hike will have slowed down activity as well," Goslett remarks.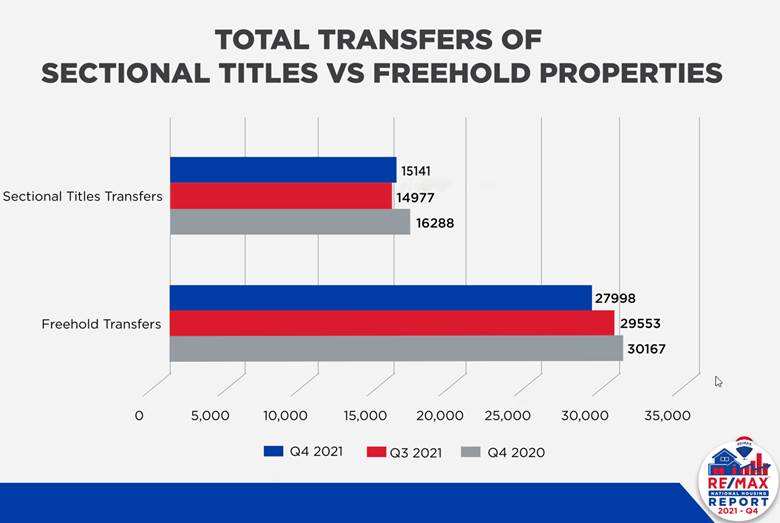 Steady House Price Growth
According to Lightstone Property data, the nationwide average price of sectional titles for Q4 2021 is R1,041,509* which, when reviewed against the figures from previous RE/MAX National Housing Reports, is an increase of 5% YoY and a decrease of 1% QoQ.
The nationwide average price of freehold homes is R1,374,637*, which is a 16% increase YoY and a 2% increase when compared to last quarter. According to Lightstone, year-to-date, the Average Price Changes per annum for sectional titles is 4% and 14% for freehold properties. The Average Active RE/MAX Listing Price for the fourth quarter amounted to R3,108,749.37. This is a 10% increase YoY.
Lightstone Property data also reveals that the average bond amount granted during this period amounted to R1,304,000. The RE/MAX National Housing Reports reflect that this is an increase of 8% YoY.
"Despite the slight decrease in sales volumes, house prices still reflected solid growth in the fourth quarter. This bodes well for investors and should inspire confidence in the South African housing market as a whole," says Goslett.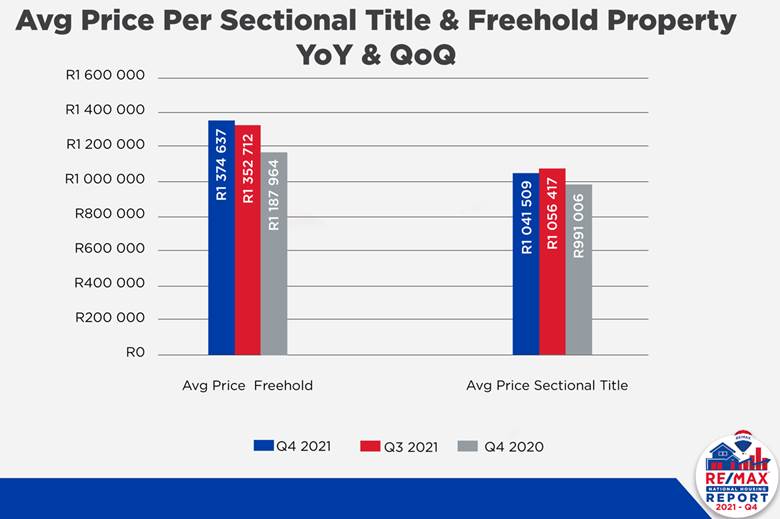 Activity within price brackets
Sales priced between R800,000 and R1,5 million continue to account for the largest portion at 28%* of all transfers occurring in Q4 2021. Transfers between R400,000-R800,000 follow at 23.2%* of the total transfers. Following this figure were transfers priced below R400,000 which now account for 22.4%* of all transfers in Q4. Sales between R1,5 million to R3 million accounted for 19.6%* and those priced above R3 million accounted for 6.8%* of the total transfers this quarter.
"Activity shifted even more towards the R800,000 – R1,5 million price bracket in the fourth quarter. Investors who would like to ensure a swift sale should consider purchasing properties that fall within this price bracket, as demand remains high within this segment," Goslett recommends.
Market Performance Per Province
The top five searched suburbs on RE/MAX Southern Africa was as follows:
Parklands, Western Cape, with 2737 searches.
Faerie Glen, Gauteng, with 2404 searches
Fourways, Gauteng, with 2144 searches
Bloubergstrand, Western Cape, with 2113 searches
Table View, Western Cape, with 1994 searches
Bond originator, BetterBond, reports the following Average Loan Amounts per region for Q4 2021:
| | | | | | |
| --- | --- | --- | --- | --- | --- |
| Region | | Average Loan Amount | | % QoQ Change | |
| Eastern Cape | | R856 997,06 | | 0,2 | |
| Free State & Northern Cape | | R859 520,03 | | -3,6 | |
| Greater Pretoria | | R1 270 050,59 | | 4,6 | |
| Johannesburg North West | | R1 188 179,33 | | 0,5 | |
| Johannesburg South East | | R942 376,02 | | 5,2 | |
| KZN | | R1 052 772,52 | | -5,0 | |
| Western Cape | | R1 187 068,44 | | 4,9 | |
Final thoughts
"The figures that are revealed in this report do point to a slowdown in market activity. Whether activity will continue to slow down over the course of the year remains to be seen. Whatever lies ahead, the South African property market remains resilient and will remain a good long-term investment strategy for those who follow expert advice and make smart purchases," Goslett concludes.